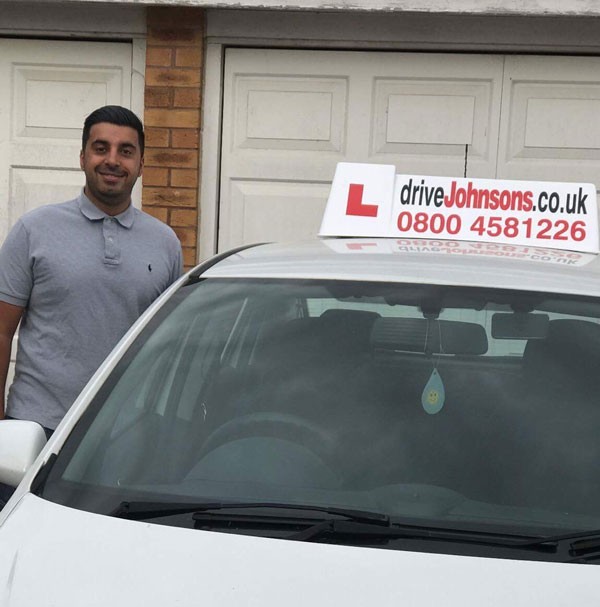 Experience & About Me:
I have been teaching in Northampton for several years now. I know the area very well, including all of the test routes. I am very dedicated to my job, my passion is to teach - I love doing it, having fun and a laugh along the way. Without sounding like a drama queen, passing your driving test does change your life in the sense of giving you freedom. I take a lot of pride in helping people achieve that.
The biggest feedback I receive from pupils is they learn quickly, fun, pass first time and feel safe on their own afterwards. If you want to enjoy learning how to drive, I'm the man for you.
Outside of work, I have a young family which includes 2 children and my beautiful wife. I enjoy family time and follow many sports including football.
Favourite Quote:
"Impossible is Nothing"
Memorable moment
When both of my beautiful children were born
Getting married
Liverpool winning the Champions League Final in 2005
Likes
Spending time with my family
Watching many different sports including Football and Boxing
Enjoying life and smiling everyday
When pupils pass the dreaded driving test I get immense job satisfaction knowing I have helped them reach an incredible milestone
Dislikes
Drivers who don't indicate
Rude people
Position:

Fully qualified instructor
Teaching Vehicle:

Vauxhall Corsa

Manual
Areas Covered:

Coming Soon
Average rating:
13 reviews
Jul 19, 2017
Amaar is a very patient and calm instructor. I had various lessons with a previous instructor who I felt didn't help me progress. On my first lesson with Amaar he just help me progress so quickly and helped me pass first time. He will talk about anything and make you feel at ease. 10/10 and he has taught other friends of mine that I recommended.
Jul 19, 2017
Thank You Amaar - I passed first time with 1 minor. Will miss our chats about football and lessons in general. Top quality guy and instructor.
Jul 19, 2017
I would like to say a huge thank you to Amaar, firstly you took me on at such short notice and you was amazing to learn with. Easy going, great to talk to, you made me feel relaxed and I enjoyed every lesson. You are always so possible and patient. I have already recommended you to my sister who you are now currently teaching and my friends. You will not find a better instructor to learn with. Cheers.
Jul 19, 2017
I want to say a massive thank you to Amaar. You are seriously unbelievable at what you do, easily the best instructor around. You saw that I was confident on our first lesson we went on the roads. I managed to pass my test FIRST TIME and in only 12.5hrs worth of lessons. You saw that I was capable and allowed to me to book my test which I will never forget.
Jul 19, 2017
Just want to stress my immense gratitude to the best instructor in Northampton - you really are. Allowed me to learn so much in such a short space of time. Really thoroughly enjoyed every lesson. From the first lesson we got on with it. Wish you all the best.
Jul 19, 2017
Amaar is a great instructor, without him I would be useless at driving. He is so patient and I genuinely feel comfortable with him, we have always had a laugh and that's definitely boosted my confidence when on the road. I have to say I will really miss our lessons but thank you so much for your advise and help allowing me to pass first time :)
Jul 19, 2017
A massive thank you for getting me through my test, I will be recommending you to everyone possible. You are fantastic at what you do, very patient and made me feel very comfortable and at ease. Wouldn't have wanted to pass with anyone else. It has been a please, thank you again x
Jul 19, 2017
Thanks for helping me pass first time, you were brilliant throughout (even with my dumb moments) would recommend you to anyone. Thanks again
Jul 19, 2017
Amaar is a great instructor, very patient and has loads of tips to pass on. I am delighted he helped to get me pass my test first time. Thanks
Jul 19, 2017
Thank you so much for helping me pass first time, you were the perfect instructor as I was struggling with being nervous but you didn't lose your patience and suited the lessons to my needs. I would recommend you 100% to anyone learning to drive.