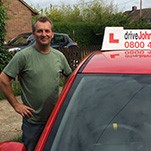 Experience & About Me:
My name is Chris, but most pupils call me Jim, and I've been a driving instructor for the last 8 years. I live in Wingrave with my wife and two young children. I'm a devoted husband and dad, my family are the most important thing in my life, I'm a really hands on dad and there's nothing I enjoy more than school runs, helping with home work and attending school trips as parent helper. I feel that I am a very patient person, I love to get to know people and feel I have a really good ability to be able to understand how to get the best out of people, it's so important to me that people are at ease and enjoy their lessons!! I treat people with respect my reputation is so important to me.
Favourite Quote:
I think that's why my favourite quote is – treat people how you like to be treated!!
Memorable moment
Passing 3 pupils with 0 minors last year!
Likes
Music, seeing family and friends, holidays
Dislikes
Impatient drivers
Position:

Fully qualified instructor
Teaching Vehicle:

Ford Fiesta

Manual