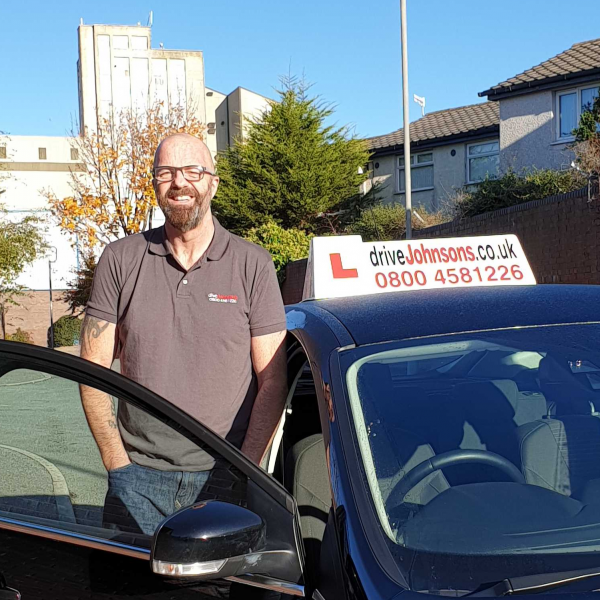 Experience & About Me:
I've enjoyed every aspect of driving since I passed my driving test 32 years ago, to the point of every job I've had over the years has been a driving job, so the natural progression would to become a driving instructor. After I became a fully qualified driving instructor I joined Drivejohnsons and have loved every minute of watching pupils progressing from lesson to lesson right up to passing their practical driving test.
Favourite Quote:
"Don't tell me the sky's the limit, when there's footprints on the moon"
"Carpe diem" (seize the day)
"You're only supposed to blow the bloody doors off"
Memorable moment
Corny I know but, seeing both my girls born
Likes
Instructor wise.... seeing pupils get that "ah ha" moment when they perfect clutch control and don't stall at traffic lights in heavy traffic
Dislikes
Pot holes..
Pot holes..
Pot holes.. and finding bones when eating fish
Position:

Driving Instructor
Teaching Vehicle:

Ford Focus Titanium

Manual
Postcodes covered:

L8, L7, L18, L75, L5, L6, L10, L11, L12, L13, L14, L15, L16, L17, L19, L25, L24, L26, L27, L28, L1, L2, L3, L4, L36, L20, L21
Average rating:
9 reviews
Dec 9, 2019
Darren's friendly approach is just what I needed as a very nervous learner. He is very encouraging when you're doing well and offers great advice when you're struggling. He made the whole process a pleasurable one and is always happy to share his own driving experience. Honestly couldn't recommend him enough, a great guy. Thanks Darren.
Mar 21, 2019
Banging lessons with a top guy, sorted me out with stuff for my theory and lessons too. Did 18 hours and passed my test 2 months after starting with him, great value for money.
Feb 24, 2019
Darren is a brilliant instructer made my lessons very easy and stress free, hes a lovely person and all round nice guy would advice anyone to take lessons of him thanks mate
Feb 15, 2019
Always have a great lesson . Darren makes you feel at ease and comfortable . Didn't think I would ever be able to drive because I was very nervous, but he is a great instructor very patient and funny .
Feb 15, 2019
Love going on lessons with Darren, great instructor, challenges my skills and a real laugh 😂
Feb 2, 2019
I really wanted to be having automatic licence, but when I call drive johnsons they said they have manual in my area and this is better to try 1st. I have 1 lesson with Darren and wow they were right. Now I passed my tests and I drive in manual, he is great instructor
Sep 21, 2018
I booked with this school because they had good reviews and there youtube videos are really good. Right from my 1st lesson with Darren he's made driving seem so simple and I've progressed more than I ever imagined I would in 10 hours. Looking forward to the rest of my lessons with him.
Apr 26, 2018
Great instructor explains everything so well had no problem giving my friends his number
Feb 24, 2018
I had 20 hours of driving lessons and passed first time. A quality instructor. I genuinely don't think I would have passed so quickly if it wasn't for him.