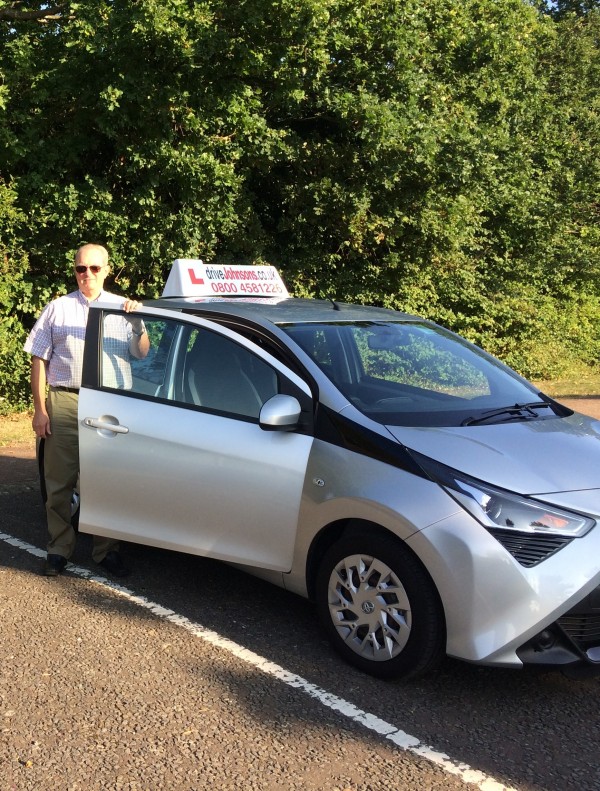 Experience & About Me:
I love driving and as a qualified ADI, I enjoy helping others to acquire and improve their driving skills. I have been driving for some 40 years so have a lot of experience and held the RoSPA gold standard for several years which is the highest civilian driving standard available, retested every 3 years.
Favourite Quote:
Two wrongs don't make a right, but three lefts do.
Memorable moment
The first 5 minutes of my driving test when a women with a pram suddenly swung round and crossed the road at a zebra crossing and I had to perform an emergency stop.
Likes
Patient and considerate drivers
Dislikes
Drivers going too fast round a roundabout
Position:

Fully qualified instructor
Teaching Vehicle:

Toyota Aygo

Manual
Postcodes covered:

RG40, RG41, RG42, RG12, RG45, SL5, GU47, GU19, GU46
Average rating:
2 reviews
Oct 3, 2018
David was a very fun, encouraging and patient teacher. I really enjoyed learning with him. I've been driving for over 8 years on automatic car in a different country but "oh gosh" I was extremely nervous to drive in the UK while re-learning to drive a manual car. Because of him, I am much more confident and learned some extra basic tips to driving in general and in the UK which I definitely needed as things are slightly different in my home country.
Sep 7, 2018
David is an excellent instructor who is able to tailor his teaching methods to individual pupils, allowing them to develop at their own pace. He is extremely patient and always makes sure you learn from mistakes. He always arrives at my address on time (most of the time a couple minutes early!) and his car is in excellent condition. Above all, he is very friendly and approachable, and his driving lessons were very enjoyable! I passed first time with 3 minor errors thanks to his fantastic instruction.