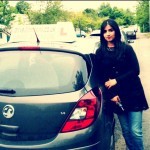 Experience & About Me:
I have been a driving instructor for 5 years now and my pass rate has increased with time I have been instructing for. To add to my increasing pass rate more and more of my students are passing first time, showing that I am refining my skills as a driving instructor and helping people become better, safer drivers in shorter periods of time.
Favourite Quote:
There are footprints on the moon, the sky is not the limit
Memorable moment
Sky diving
Likes
Chocolate, being with family, seeing learners pass and seeing them out on the road
Dislikes
When road users use the horn on learners
Position:

Fully qualified instructor
Teaching Vehicle:

VAUXHALL CORSA

Manual
Average rating:
2 reviews
Mar 11, 2018
ifet is a very nice,kind,patient instructor who has helped me alot during my lessons with her she put alot of effort in doing the parallel parking with me which i hated doing so much but she didnt give up practicing that parking with me nearly every lesson she went over that parking with me, she always use to say that i shouldnt have my foot on the clutch because its not a foot rest and that i had to move it from there and i always use to find it funny when i use to put it there and she would see it and say to me move it from the clutch and when she use to say move it from the clutch i always use to say to her how do you know i have my foot there ifet use to say because i know you have it there :) i would defo recommend ifet as a driving instructor to all the learners she's such a nice,kind,caring,lovely instructor to have and definitely a enjoyable instructor if you get to know her and start getting on with her. ifet always use to work towards my wishes and my availability and im very very thankful to her that shes helped me to my biggest wish and goal and that was for me to pass my driving test im so thankful to her how much shes helped me and supported me towards my goal which was to pass my driving test she knew how much and how badly i wanted to pass and get my driving license because of that she knew that i wanted my driving license really badly she always use to help me work towards it and never gave up on me.

Ifet your the best driving instructor ive had wouldnt of asked for a better instructor than you
thank you very very very much once more ifet your the best really enjoyed my time and lessons with you

xx
Sep 15, 2017
Ifet quickly spotted my weak areas and helped me progress in driving. She prepares you for the hardest aspects of driving, so you become ready for the test and the road after passing your test.