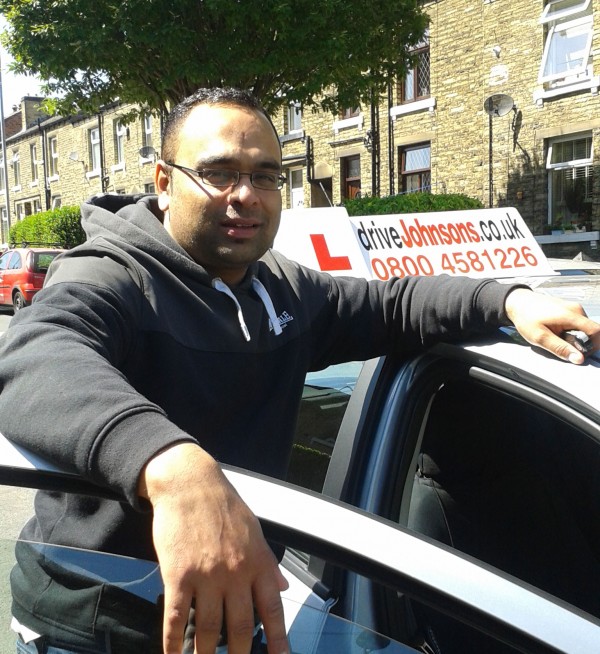 Experience & About Me:
Hi, my names Imran. I have been a fully qualified driving instructor for over 8 years now. I teach around the Huddersfield area covering all the postcodes of Huddersfield.
It's a joy for me to teach people, knowing that I have provided them with a skill for life. I decided I wanted to become an instructor due to the fact that my father is also a driving instructor and has been for the past 25 years, so it runs in the family!
Favourite Quote:
Never give up. Never ever give up. Why? Because just when you are about to give up is when things are about to turn around in a grand way. Hold on. Great things are waiting for you around the corner.
Memorable moment
Passing my examinations to become a driving instructor
Likes
Swimming and kickboxing
Dislikes
Queues of traffic
Average rating:
7 reviews
May 12, 2017
Great driving instructor who gave me the confidence and tips I needed to pass. Would definitely reccomend
Feb 2, 2017
Couldn't recommend more! Imran is so lovely and gave me the confidence I needed to pass!
Jan 19, 2017
Fab instructor with a great teaching method. Enjoyable lessons that are always productive.
Jan 19, 2017
I just recently passed my test with Imran. Imran was a great instructor right from the very first lesson as he helped me feel confortable, confident and relaxed. He understood my goals and helped me achieve them in the shortest amount off time possible. It was an absolute pleasure being to be taught by him and I would highly recommend him to anyone. Thank you Imran.
Jan 18, 2017
I started lessons with Imran in December 2016 with a goal of passing quickly. Today I have passed my test 1st time! Imran made me feel comfortable straight away. His instructions were clear and easy to understand. He knew my goal and worked hard with me in order for this to be achieved. I would highly recommend Imran, it was a pleasure to be taught by him and I feel proud of what I have achieved with his help. Thank you Imran.
Jan 14, 2017
Recently I passed my test with Imran he was a great instructor, he was good at building my confidence and made me feel relaxed. His teaching skills worked really well for me and I could really see myself progressing each lesson. I'm glad Imran was my instructor as he always pushed me to get that pass! Would recommend using him he's great!
Dec 15, 2016
As someone who had already had some driving lessons before, Imran was perfect at assessing exactly what I needed. He makes the driving test a real goal from day 1! His advice was always simple to follow and he made driving both sound and seem easy. After only a couple of months he gave me the confidence to book my test and prepare for it.His tips for the road are something I will carry with me for a very long time. (If you can walk across, you can drive across!) Imran was also so great with any lack of confidence I faced at the wheel and was a huge help in me overcoming this. I would highly recommend him as a driving instructor, from scratch or even if you've had lessons already in the Huddersfield and surrounding area.I passed my driving test the 1st time
Thank you so much imran for putting up with me- you're the best!"