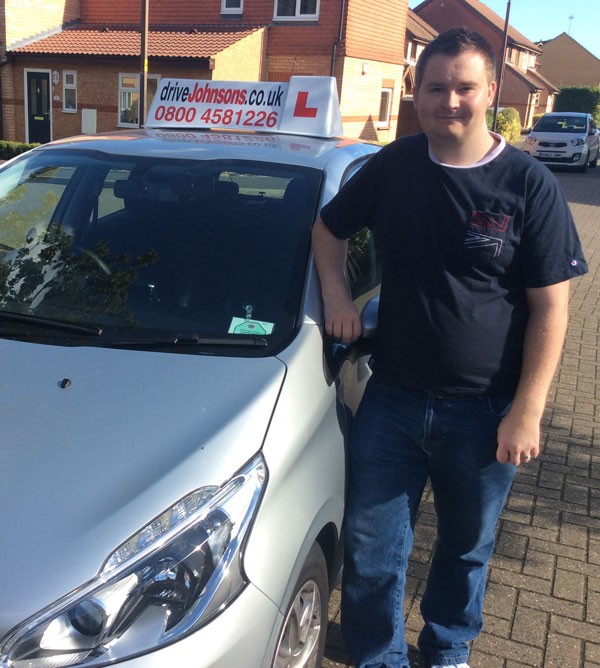 Experience & About Me:
I am an ORDIT registered driving instructor trainer as well as a driving instructor. I've been teaching in different roles for over 10 years and still find it as rewarding as ever. I love being able to help people and seeing them achieve things they once struggled with. The best feeling is seeing a pupil's face when they pass their driving test, or a PDI passing their part 3 test and officially qualifying in their new career. Outside of work I enjoy playing music, holding grade 8 in piano and grade 3 in guitar, I also enjoy playing the baritone with a local brass band.
Favourite Quote:
Chocolate comes from cocoa, which is a tree. That makes it a plant … So chocolate is a salad.
Memorable moment
Getting a cuddle with Mickey at Disney World.
Likes
Music, driving, movies and a good night out.
Dislikes
Drivers making learners uncomfortable …. and mushrooms. Yuck.
Position:

Fully qualified instructor
Teaching Vehicle:

Volkswagen Polo 1.6 diesel

Manual
Postcodes covered:

MK1, MK10, MK11, MK12, MK13, MK14, MK15, MK2, MK3, MK4, MK5, MK6, MK7, MK8, MK9
Average rating:
10 reviews
Jan 23, 2019
I passed my test yesterday, it's all thanks to Lewis Cowan! He made our lessons fun and interesting. Lewis is very patient and understanding and was also great at explaining everything to me. I've got nothing but praise for Lewis, I wouldn't recommend anyone else. Lewis - thankyou very much, you were an amazing instructor.
Dec 7, 2018
Just wanted to say a big thank you for all your knowledge and experience which enabled me to pass my test first time. Your driving experience was valuable from the beginning in making me feel at ease and confident in my abilities to drive the best I can!
Sep 14, 2018
10/10!! Lewis made learning to drive fun! He made me feel confident which I really lacked before I came to him! He's a top notch instructor and I wouldn't recommend anybody else apart from Lewis!
Aug 8, 2018
Just passed my driving test with Lewis Cowan, sound guy and was the best to learn with. He made me feel comfortable when driving and always kept me updated if any plans changed. I wouldn't recommend anyone else apart from Lewis. TOP instructor👍
Aug 2, 2018
11/10, this is what Lewis deserves! I had an awesome time learning how to drive with him! He made me feel confident, assertive and composed behind the steering wheel! He's a top notch instructor and I wouldn't recommend anybody else apart from Lewis!
By the way I passed only with 4 minors which was teriffic
Jul 23, 2018
i just passed my driving test this week but i could not have done it without the help and support from Lewis. I would definitely recommend him and many thanks.
Jul 16, 2018
I was listening to all the panicking experiences of my friends who were taking their driving lessons with different instructors. However, my experience is very good and I must say 'a big thank you' to Lewis for that. He is such a good, friendly, responsible and patient instructor. He has a very good sense of humor too which made my lessons less stressful and rather enjoyable. I really liked the way he assesses the readiness of a learner for a test with a standardized tool and his openness about the progress of a learner. I saw him being happy in an occasion of a pass of his learner. When I say tell this to my friends they become surprised.

Overall, I would rate Lewis 5/5 as an instructor and highly recommend my friends who want to take a manual lesson.
Jun 11, 2018
I just passed my test today, which I couldn't have done without the help from Lewis. He's such a brilliant instructor as he's very patient, encouraging and a generally very nice person. Thank you very much Lewis!!!!😊
Jun 7, 2018
Just passed today and I can honestly say Lewis was an amazing instructor. Very good at explaining things in a way that was easily understandable therefore every lesson felt progressive.
Apr 26, 2018
I have just passed my test. Lewis is a brilliant, professional, friendly and experienced instructor. I always felt like I was in good hands. It was a pleasure to have had his guidance.