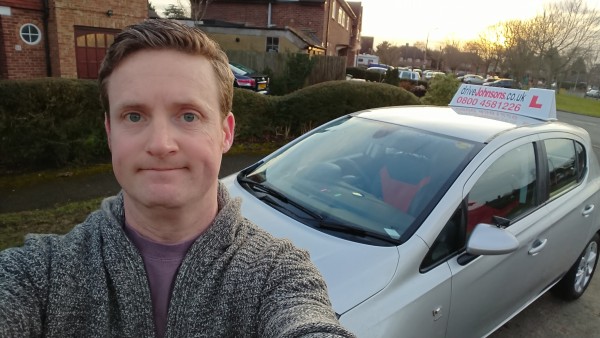 Experience & About Me:
Coming Soon
Favourite Quote:
Coming Soon
Memorable moment
Coming Soon
Position:

Fully qualified instructor
Teaching Vehicle:

Vauxhall Corsa

Manual
Postcodes covered:

RG9, RG10, RG5, RG6, RG4, RG1, RG2, RG41
Average rating:
9 reviews
Nov 6, 2018
I recently passed my driving test with the help of Matthew. He is a great instructor, takes pride in what he does, he concentrates on the areas where you need to improve. He is also flexible, punctual and friendly. He can help to cope with your nerves, which I really had a lot.
I can't recommend him enough.
Sep 14, 2018
An incredible instructor. I was very nervous when I started learning and Matthew was fantastic at finding the right pace for me. Throughout the lessons he was very organised and flexible when it came to lesson times. Ultimately I ended up passing the test first time, something I never expected to be able to do. I cannot recommend Matthew highly enough.
Jul 21, 2018
Matthew is easy to talk to, professional and a patient driving instructor. With well-planned lessons adapted to what you need to work on improving your driving every lesson. He helped me to achieve a first-time pass. Highly recommended!
Jun 17, 2018
My daughter Millie has just recently passed her driving test first time with Matthew, I would highly recommend Matthew, he is very patient and a safe instructor.
Jun 17, 2018
Excellent driving instructor, would highly recommend Matthew, my daughter passed first time, he is very patient and safe.
Jun 8, 2018
I have recently passed my driving test after having lessons with Matthew from MPG3 Driving School. Matthew is an incredibly patient teacher, every lesson is carefully planned and organised to ensure that you make progress and continue to feel confident whilst you learn. He was extremely reliable and took my work schedule into consideration when booking lessons. I am hugely grateful for the very positive experience I have had and would recommend Matthew to any new drivers.
Apr 19, 2018
Great instructor, really easy to get along with and makes all the instructions very clear
Mar 28, 2018
Matthew is a very friendly and calm driving instructor, he explained things very well and worked hard to make sure I corrected all my weaker areas, I really enjoyed my lessons with Matthew and he made me a very confident driver. Thank you Matthew
Mar 20, 2018
Friendly and responsible, very good at explaining instructions and errors in a patient manner. Actively tracks the progress of all his students and plans lessons around the weaker areas. Couldn't have asked for a better instructor, thanks again Matthew!