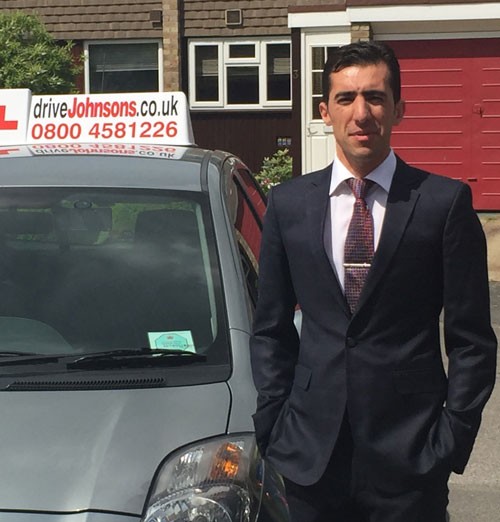 Experience & About Me:
I have been a driving instructor for more than 5 years now and it has been an incredible journey of my life. Witnessing my pupils learn, grow and succeed is a very satisfying experience. I have always enjoyed teaching and helping others and that's why I love what l do so much.
Favourite Quote:
Success is not luck but hard work.
Memorable moment
Becoming a fully qualified instructor.
Likes
Helping others achieve their dreams.
Dislikes
Negative mindsets
Average rating:
55 reviews
Jan 14, 2018
Nisar is a very patient and friendly instructor who can easily pick up on what you need to practice the most, and push you where you need it, which ended up getting me passed much sooner than I expected. Definitely recommend!
Dec 15, 2017
Great 2 weeks refresher course with Nisar, which resulted in passing my test first time with a few minors this morning. Happy to recommend!
Nov 29, 2017
Nisar is very professional and patient as an instructor. A week before my driving test my original instructor did not have the amount of time I felt I needed to get my driving skills up to par, Nisar was able to not only put the time in but also get me to a confident level to pass my test. I strongly recommend Nisar for anyone wanting to pass their driving test.
Nov 28, 2017
Nisar is an excellent instructor, very patient and made me feel at ease whilst learning. He quickly assessed my strengths and weaknesses to enable me to pass quickly. He is also very good for nervous learners over their 30's.
Nov 28, 2017
Nisar was a great instructor, very patient and gave good instruction. He really boosted my confidence driving and would highly recommend!
Nov 14, 2017
Nisar is fantastic tutor. He is patient, supportive and goal oriented. He restored my driving confidence which was badly damaged by my first instructor. I passed from first time. Surprisingly, he speaks Russian a little! Highly recommend!
Nov 7, 2017
Passed first time thanks to Nisar! Calm, friendly and above all a great teacher! Would highly recommend!
Oct 25, 2017
I have had 3 instructors in total and Nisar was by far the best. Calm, easy, super helpful. I am a very nervous driver but i passed with ease under his tuition.
Oct 20, 2017
Nisar is a fantastic instructor and a lovely chap - he has helped me pass the test with 1 minor in 11 hours of lesson time - would recommend to anyone who prefers a calm, levelheaded instructor.
Oct 18, 2017
Nisar is a great instructor - calm and patient and encouraging. He made sure I had mastered each step before learning something new so I always felt capable and confident. Thanks Nisar!