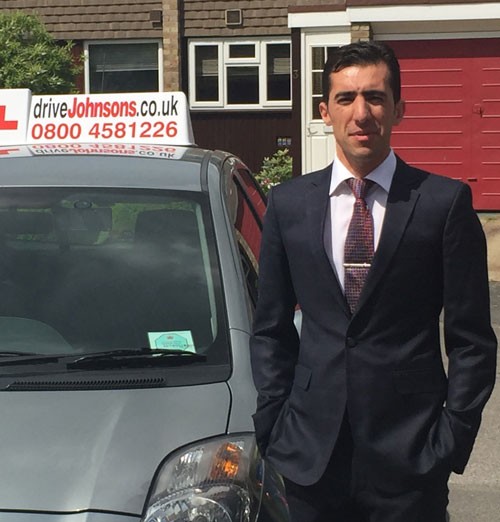 Experience & About Me:
I have been a driving instructor for more than 5 years now and it has been an incredible journey of my life. Witnessing my pupils learn, grow and succeed is a very satisfying experience. I have always enjoyed teaching and helping others and that's why I love what l do so much.
Favourite Quote:
Success is not luck but hard work.
Memorable moment
Becoming a fully qualified instructor.
Likes
Helping others achieve their dreams.
Dislikes
Negative mindsets
Average rating:
60 reviews
Feb 28, 2018
Nisar is a very patient and polite instructor, and he is always punctual. He got me test ready in under 20 hours and he made sure we covered my weaknesses as well as my strengths. I had two previous instructors who were not as clear in their instructions or capable of teaching to such a high standard.
I strongly recommend Nisar! You can be test ready in no time and won't overspend.
Feb 15, 2018
Very good instructor, knows what he's doing and knows when a pupil is ready for a practical test. Calm and patient when it comes to yourself screwing up when learning to drive and knows how to put things right. Managed to pass with about 13 hours learning time which is excellent.
Feb 9, 2018
Highly recommended driving instructor. Patient, clear and provides excellent instruction on how to pass your test and become a safe and confident driver. I believe he has instilled a good driving technique from the beginning. Passed first time in a quicker time frame than I was expecting!
Feb 6, 2018
Nisar has been a fantastic driving instructor. He is calm and patient and very good at explaining everything. The lessons were an enjoyable experience and have really helped to boost my confidence. I am so glad to have passed my test and am very grateful to Nisar for all of his help.
Jan 25, 2018
The best of best! Nisar is the best driving instructor I have ever had. With moving between Oxford to London and back in Oxford I had to change my driving instructors few times. I had 4 driving instructors up to date. So I'm in a great position to compare his teaching with other instructors. Nisar knows about his student, target on weaknesses help you to overcome it and encourage you to improve driving skills and minimise mistakes. A professional driving instructor, very patience, kind and very understanding. I had instructors who would just shout at me rather than explaining the mistake I did while driving. But Nisar had so much patience with me. Explained everything very well. I passed my test today and I'm over the moon! The credit should go to Nisar. I would highly recommend him to anyone. You will be in safe and good hands. Thank you so much Nisar.
Jan 14, 2018
Nisar is a very patient and friendly instructor who can easily pick up on what you need to practice the most, and push you where you need it, which ended up getting me passed much sooner than I expected. Definitely recommend!
Dec 15, 2017
Great 2 weeks refresher course with Nisar, which resulted in passing my test first time with a few minors this morning. Happy to recommend!
Nov 29, 2017
Nisar is very professional and patient as an instructor. A week before my driving test my original instructor did not have the amount of time I felt I needed to get my driving skills up to par, Nisar was able to not only put the time in but also get me to a confident level to pass my test. I strongly recommend Nisar for anyone wanting to pass their driving test.
Nov 28, 2017
Nisar is an excellent instructor, very patient and made me feel at ease whilst learning. He quickly assessed my strengths and weaknesses to enable me to pass quickly. He is also very good for nervous learners over their 30's.
Nov 28, 2017
Nisar was a great instructor, very patient and gave good instruction. He really boosted my confidence driving and would highly recommend!