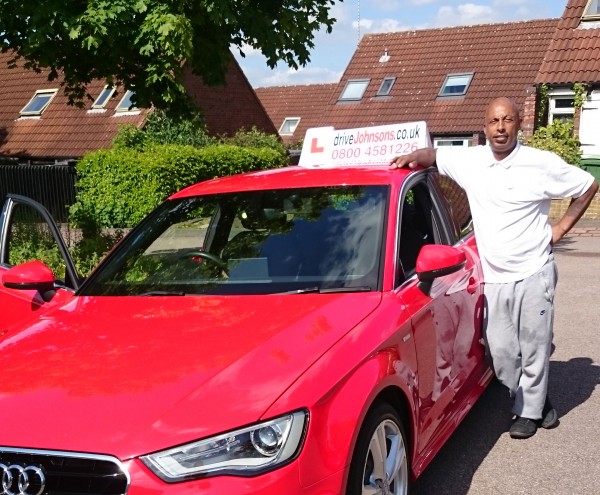 Experience & About Me:
After coming into the driving tuition industry I have not looked back. Driving was always something I was passionate about and could not wait to pass my test at 17 while all my friends still had to get the bus. I did not realise how much I would enjoy teaching others how to drive and passing on all the knowledge that I have built up over the years. For me driving and instructing never gets old and I cannot wait to meet new students every day.
Favourite Quote:
When choosing between right and kind choose kind.
Memorable moment
Visiting the Grand Canyon
Likes
Pupils passing with with no minors
Dislikes
Inconsiderate drivers
Position:

Fully qualified instructor
Teaching Vehicle:

Audi 1.6 TDI

Manual
Postcodes covered:

MK1, MK2, MK3, MK4, MK5, MK6, MK7, MK8, MK9, MK10, MK11, MK12, MK13, MK14, MK15, MK16, MK17, MK77
Average rating:
2 reviews
Nov 7, 2018
Pat is clearly a very experienced and knowledgeable instructor. He made me feel safe and confident behind the wheel, and pushed me to become a better driver. At the end of each lesson, I always felt that I had learned something, and could see my driving skills improving. Not only that, Pat's friendly and laid-back personality made lessons enjoyable, and helped to alleviate the anxiety that can come along with learning to drive. Finally, Pat was very flexible with the scheduling of evening lessons, meaning my working day was not impacted. With Pat's help, I passed my test first time, after 12 lessons. I would highly recommend him to anyone looking for an instructor, and wish him the very best.
Sep 4, 2017
Pat was my driving instructor for 6 1/2 months, He is an absolute amazing instructor !! Makes you feel comfortable and at ease and not afraid to tell you how it is. But out of the 2 instructors i had whilst learning to drive Pat was by far the best. I just want to thank you for helping me Pass and all your teaching knowledge is muchly appreciated. I wish him all the best.