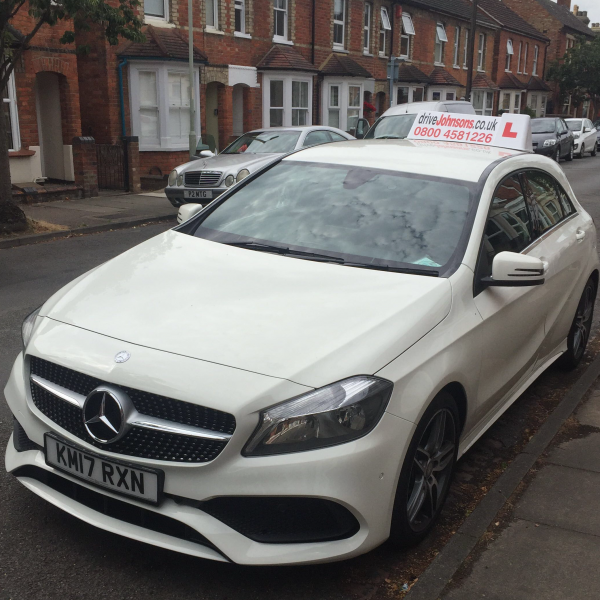 Experience & About Me:
I have been teaching in Bedford with driveJohnson's since May 2016. I cover Bedford and some surrounding areas. I have a 95% first time pass rate, which is well above the national average and I am keen to help you get through your test.
I believe that training/coaching people to drive is a two way learning process. I get as much out of teaching as you will from learning. Most of all it should be great fun, so bring your sense of humour with you.
Favourite Quote:
"I used to wake up looking forward to today, I now go to sleep looking forward to tomorrow." – Pete Spiller
Memorable moment
1. Diving with three Whale Sharks in a sardine ball off the coast of Egypt.
2. When a student pulled out on a Jaguar. She asked how I could be so calm. I said, "It would have cost him more than me".
Likes
Diving, climbing, cycling and people who laugh at themselves. And of course driving – it gives a great sense of freedom.
Dislikes
People who overtake then slow down. Fog lights. Celery, that stuff is evil.
Position:

Fully qualified instructor
Teaching Vehicle:

Mercedes A Class

Manual
Average rating:
20 reviews
Oct 19, 2017
The daunting thought of learning to drive was quickly subdued buy Pete's calm demeanour and clear instruction. The car was easy to learn in and had plenty of aids to help me progress quickly. Pete's tuition was clear and honest. Predictably, there were plenty of areas I had difficulty with, so we worked on my faults together and I went into my test with a calm confidence that helped me pass. Pete went above and beyond what was necessary, introducing me to a few tips which will last a lifetime. I would recommend him to any new driver.
Oct 3, 2017
Pete was a wonderful instructor! He made me believe in myself and taught me to the best standard. I'd like to thank him for his time and patience! Also he has a very very nice car :)
Sep 28, 2017
Pete proved to me that having confidence in myself and the knowledge and skill of driving that he taught me that I could successfully pass my driving test first time. Pete is very friendly, kind and understanding and knew when to praise me and knew when I needed to work a little bit harder to achieve my goal. I've recommended him to other learner drivers and will continue to do so. He is truly an amazing driving instructor and I thank him for putting up with me.
Sep 5, 2017
Pete is the best driving instructor, he put up with me for a whole year and has truly become and great friend that I'm going to miss. He has the patience of a saint and is a great treacher. He is friendly and funny but knows when to be serious, I'd highly recommend him to anyone! If he can get me to pass he can get anyone to!
Aug 15, 2017
Pete is a friendly, professional instructor who will help and guide you to passing your test confidentially and without fault.

He is always flexible and try's to fit lessons around you, which for a working professional with long hours like myself was something I was finding an instructor willing to do so, increasingly difficult!

Despite having previous experience Pete quickly saw what I was doing wrong, taking me back to basics and correcting my bad habits!

I would recomend Pete to any beginner, intermediate or even with someone who thought they were test ready like myself to have lessons from Pete! HE WILL GET YOU PASSED!!!

Oh yeah, getting to drive around in a Merc isn't half bad either!

Thanks for everything Pete, you were a life saviour!
Aug 1, 2017
Excellent tuition, Pete is a very laid back instructor who allows you to make errors and then teaches you the logic of how to correct them, which I found really useful to improve my driving. He has excellent knowledge of the Bedford test routes, a great car to learn in, and teaches to a better driving standard than the minimum needed to pass the test. Highly recommend
Jul 8, 2017
Pete is a fantastic teacher. Funny and patient no matter how many times I messed up my parallel park! Would recommend him as an instructor to anyone. Plus he has an awesome car!
May 23, 2017
Pete was my second instructor since learning to drive and I could immediately see a difference in the attitude and approach to driving. His friendly persona allowed me to stay calm at all times and his brilliant sense of humour made me look forward to my lessons. He was also able to give me the information in ways that suited me personally making things less complicated. I would definitely recommend Pete as an instructor to everyone.
May 22, 2017
I was nervous about learning to drive but Pete put me completely at ease and I felt very comfortable driving with him. He was a very supportive instructor and I cannot recommend him highly enough! He helped me to pass first time and now that I have passed my test I drive with confidence!
Thank you Pete! I couldn't have done it without you.
May 9, 2017
Pete was an absolutely amazing driving instructor, cannot recommend enough!!
I suffered with really bad nerves and let my head get the better of me, each time Pete would give me the confidence to keep going and help me to rectify the problems.
He used great learning strategies and always taught them professionally and calmly, creating pleasant and progressive lessons. It was always a step forward!
Pete was great at keeping track of my learning and knew what needed to be tackled next or even just doing that bit of fine tuning for the test.
Really pleased to say I passed FIRST TIME with all of Pete's help and support.
If you are looking to start learning or you don't feel happy with your current instructor, I would strongly recommend getting in touch with Pete.