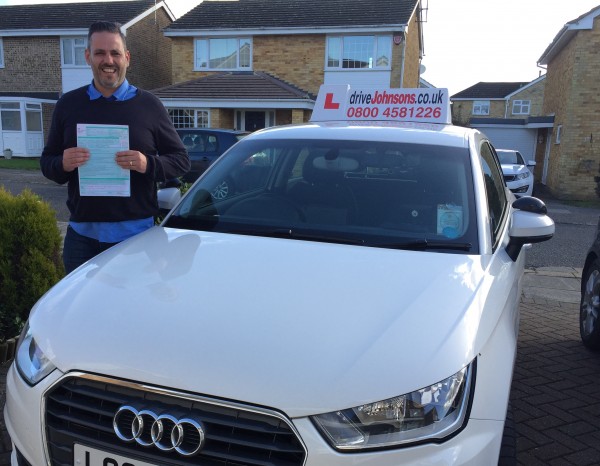 Experience & About Me:
I'm totally focused and extremely passionate on providing the lifetime skill on how to safely navigate these rather treacherous roads of ours....
I pride myself on a friendly relaxed manner to create a happy learning environment..
It seems to be working well and long may it continue... ( even though I'm still the coach)....
Eventually that responsibility once agreed Is passed over to the pupil and hence we have a test ready pupil eagerly anticipating their test .
Thank you to Drive Johnson's and the team and the continued support of all my pupils both past and present .
Have found some new friends along the way , and for that I'm truly grateful .
Favourite Quote:
Less Space , Less Pace.
The more you steer , the lower the gear..
Chin to shoulder and you'll live a year older.
(Can be heard at least once in every driving lesson ) zzz.
Memorable moment
First Zero minors test of late (Well done said Pupil ), hopefully the first of many ..
Likes
. Luton Town football club
. Music
. Djing in a former life and still a presenter on local radio .
. House and Garage any form of Electronic music
. Designer clothes
Dislikes
.Watford Fc ( of course
.Commercial pop music
.People that hoot learners for a stall creating a 2 sec delay or so ..
Position:

Fully qualified instructor
Teaching Vehicle:

Audi A1

Manual
Postcodes covered:

SG4, SG5, SG6
Average rating:
9 reviews
Oct 17, 2018
Simon is a great instructor and with his help I managed to pass first time, dispite initailly being a very nervous student. He is extreamly patient and uses learning aids (apps and videos) during the lesson which were quite useful for beginners with little or no experience behind the wheel. The "debriefs" at the end of each session were also useful to hear what needed to be improved as well as the things you were doing well.

I would definitely recommend him to others!
Jul 26, 2018
I am very grateful for all the hard work by Simon on making it a success story for me. Great teacher and very focused. Took the far of driving out of me and put the concept of road safety instead. Thank you Simon and DriveJohnsons!
Apr 11, 2018
Recommend Simon to anyone ,brilliant instructor I past first time with a clean sheet no minors thanks to his skills an explaining things like the professional he is top man
Mar 23, 2018
Simon is a great driving instructor, really friendly and supportive! I always looked forward to my lessons and am really pleased to have now passed my test!
Mar 7, 2018
Fantastic instructor! I previously was with a different company and had to change - along came Simon. Relaxed and friendly approach to the lessons and throughout I felt at ease. He taught me so much that I didn't know before, and I passed first time! Have highly recommended him to friends and family. My sister is currently learning to drive with Simon and always comes back smiling. Thank you Simon for everything :)
Mar 6, 2018
Simon is a fantastic instructor, helped me pass first time which was a concern for me with my partner being heavily pregnant at the time.

He was always helpful, showing me different ways of doing things and sending me resources to use when not behind the wheel. He was great at acomodating my need to suddenly change lessons due to my job and though he doesn't work Sundays would do so to help me out.

Would recommend again and again.
Mar 6, 2018
Simon is an excellent instructor. He is highly knowledgeable and has got great patience. He takes extra care towards his students and ensures they are relaxed during lessons as well as driving tests. I never felt tensed while driving under his guidance. I would strongly recommend him.
Mar 6, 2018
Fantastic driving instructor couldn't have had better than Simon puts you at ease from day one right thought to test day.
Mar 6, 2018
Simon is an amazing instructor. Really patient and supportive. Explains things at a level the student can understand and grasp. Friendly and caring, he really helped with my nerves and lack of confidence. I'd recommend him to anyone.