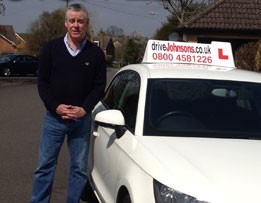 Experience & About Me:
I've been an Instructor for about 3 years. I am also a qualified FA and ECB Coach so my teaching style is very much about coaching and getting the Pupil to improve their driving skills using their own preferred learning style.
My pupils tell me I'm not your typical 'blah blah blah' Instructor as I make lessons both fun and interesting – a sense of humour is certainly an advantage.
I pride myself on an excellent pass rate and my ability to quickly identify driving faults and help the Pupils find ways to correct them
Favourite Quote:
I love the famous Bill Shankly quote "Some people believe that football is a matter of life and death. I am very disappointed with that attitude – I can assure you it's more important than that!"
My own favourite –'"Treat every problem as an opportunity."
Memorable moment
I had a pupil pass first time with only 2 minor faults after 7 lessons. His family owned a farm and he had only driven a tractor before he had driving lessons. Needless to say we had a bit of work to do on his 'spatial awareness!' He was so pleased when he passed that I discovered free range eggs on the doorstep for weeks afterwards.
Likes
Manchester United, Salford Red Devils Rugby League Club – most sports (apart from synchronised swimming–then who does like synchronised swimming?) Summer holidays and skiing holidays
Position:

Fully qualified instructor
Teaching Vehicle:

Audi A1

Manual
Average rating:
1 reviews
Sep 23, 2016
I highly recommend Steve to anyone learning how to drive. Awesome teaching and driving techniques, as well as someone you can really talk to. My driving has definitely improved, and I passed my driving test first time. Thank you for all the help Steve!