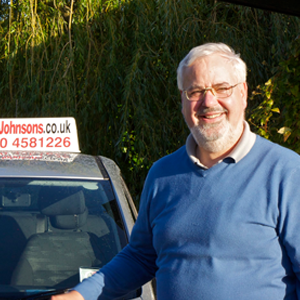 Experience & About Me:
I have been teaching for nearly 6 years. My style is to push you to the best of your ability. Ensuring you surpass the required standard and have driving skills that will last you a life time
Favourite Quote:
"He who dares" (Del Boy – Only Fools and Horses).
Memorable moment
Getting my son through his test. We had several challenging moments, and he is still the only pupil I have ever sworn at!
Likes
Teaching, I get an amazing buzz out of getting pupils to pass first time.
Family – we have 10 grandchildren now and although the eldest is only 14 she is putting the pressure on me to teach her to drive already
Dislikes
Pupils who do not try. We all have problem areas, but as long as you try I'll work hard with you to get you through them and passing your test.
Position:

Fully qualified instructor
Teaching Vehicle:

FORD FIESTA

Manual