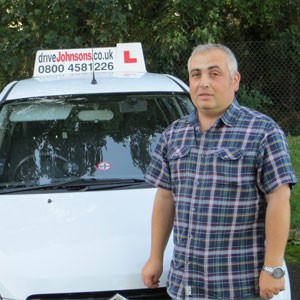 Experience & About Me:
"I really love my job as a driving instructor as I get to meet new people all the time. It's very rewarding to see a learner progress and pass due to your tuition. I've been a driving instructor in Milton Keynes for 4 years and I have had loads of first time passes."
Favourite Quote:
"Nothing is particularly hard if you divide it into small jobs."
Memorable moment
I had a pupil who failed his first driving test because he went the wrong way and panicked, so I told him that on his next test, he should follow the arrows or simply turn left and he would be re-directed by the examiner. So, on his second test every time he wasn't sure, he would turn left – I was in the car on the test and couldn't keep a straight face! The examiner was going red in the face. We got back to the test centre 10 minutes late, but the pupil had passed his test, thankfully!
Likes
Holidays, being with my family, watching football with my nephews
Position:

Fully qualified instructor
Teaching Vehicle:

Suzuki Splash

Manual