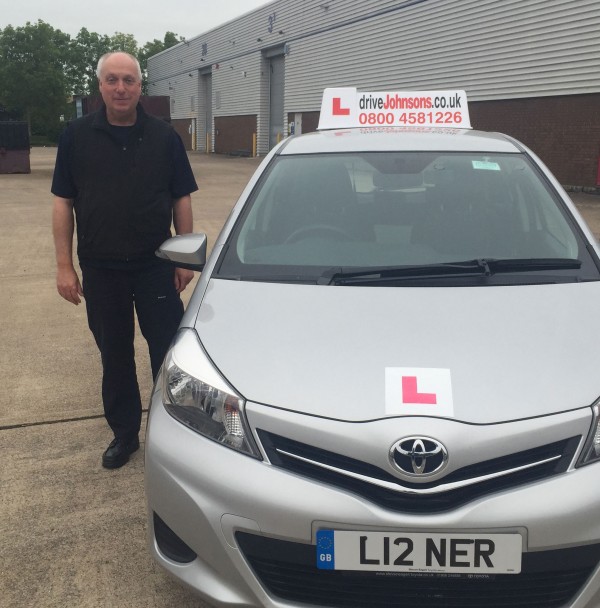 Experience & About Me:
For the past 29 years, I've been teaching pupils in MK. I'm a local lad from Newport Pagnell – Went to Ousedale school. Completed a apprenticeship welding course at British Rail, Wolverton, before becoming a ADI in 1989.
Even though i've been teaching for many years, Its still nice to see your pupil
pass their practical test ! It still gives me a BUZZ : )
Favourite Quote:
From many pupils:
"When I pass my driving test, I'm NEVER coming to Bletchley again!"
Memorable moment
Driving my Clio V6 RenaultSport for the very 1st time off the garage forecourt, heading back to Milton Keynes
Likes
Car owners that customise their vehicles too a very high standard! Their own personal pride and joy!!
Dislikes
Loud music blasting out of their cars!
Car drivers that park their cars next to a fuel pump, then pop into the garage shop just to buy a newspaper and a coffee!
Position:

Fully qualified instructor
Teaching Vehicle:

Toyota Yaris

Manual
Average rating:
6 reviews
Jul 17, 2016
Chris have a good understanding with there pupils he know how to make it easier. I have pass my exam in first time, it's all down to him raising my confident to that level. He does make it easier and he is extremely reliable person I personally recommend him as instructor.
Jul 16, 2016
Chris' lessons are really enjoyable, he is incredibly patient and will reassure you if you're nervous :) I really recommend him as an instructor!
Jul 15, 2016
Chris provides a great service and delivers effective driving tuition. Would recommend to anyone wanting to learn to drive! Extremely reliable and has never cancelled a lesson, very impressed!
Jul 8, 2016
When I first started learning to drive I was very nervous and used to dread my lessons. Chris was very patient and was happy to go through everything with me as many times as I needed (which was many many times!) which made me so much more confident. He was always ready to have a laugh as well which made the lessons enjoyable. I would 100% recommend Chris to anyone learning to drive, he is lovely! Thank you Chris for everything!
Jul 8, 2016
So Chris will tell you I was far from a natural when I started learning to drive. I definitely exhausted his patience but he persisted with me and covered everything from the basics to the extremes at a pace that suited me. Before my test he went through everything I had doubts on. Just an all round great teacher and friend!
Jun 27, 2016
Thank you chris for teaching me everything i know you are an amazing instructor thank you .