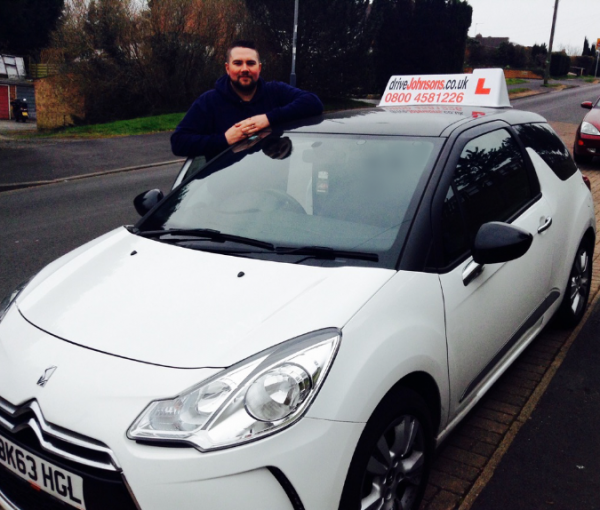 Experience & About Me:
I passed my ADI Exams with the Help of the Company Director Anthony Johnson. I started on a pink licence working on a part time basis after I passed the first 2 parts of the exams while also working full time in the aerospace industry. Now I am qualified I work full time and have a very productive and busy diary working the hours that suit me, covering a large area around Rugby and Coventry
I am a very chilled character who will always do my best by my pupils to get them to test standard. I try my hardest to make sure every lesson is productive and a new lesson or skill can be taken from it.
Favourite Quote:
"KERB….. KERB….. KERB!"
Memorable moment
Getting married to my beautiful wife Sharron and spending 4 weeks in Australia for our honeymoon.
Likes
Lewis Hamilton
F1
Golf
Rugby
Dislikes
Sebastian Vettel
People who don't indicate!
Position:

Fully qualified instructor
Teaching Vehicle:

Citroen DS3

Manual
Areas Covered:

Coming Soon
Average rating:
21 reviews
Feb 6, 2018
Rob is a one of a kind instructor: friendly, funny or so he is lead to believe but most importantly, always, without fail, supportive. Rob is a constructive instructor who will not hesitate to tell you were to improve but he will do so in a manner that will allow you to be confident and also feel at ease, a very important quality you will want in an instructor. Aside from teaching me to drive Rob, taught me to have confidence in my own ability. We've shared laughter from successes and failures but I'm glad to have shared these memories with Rob and to have grown both as a driver and as a person. You'll never ever forget your "Dirty Thirties" or get tired of his recycle jokes. You won't regret choosing Rob. Pass with Rob! All the best :)
Jan 6, 2018
Couldn't of done it without him!! Rob has the patience of a god and had faith in me the whole time, when I was doubting myself. The lessons were always fun and always productive- I wouldn't of gone with anyone else. He is chilled out, easy to get along with and makes driving a pleasure👍🏻
Jan 4, 2018
Massive thank you to Rob on helping me pass first time!! I highly recommend him as an instructor, he made learning to drive fun and easy making a me confident driver.
Nov 21, 2017
Top man very patient and calm has lots of tips and advice that helped me pass with one minor after ten lessons could not have wishes for a better instructor, Rob you are a star thank you
Nov 16, 2017
Robs an absolutely amazing instructor and I wouldn't of picked anyone else to do my lessons with. Always made me feel comfortable and at ease with everything. Took me step by step even when I was struggling. So glad I've passed but going to miss my weekly appointment with rob! Definitely one to recommend!
Nov 14, 2017
Rob is an incredibly good Instructor and a very nice person, cool, calm and collected he teaches incredibly well and is very patient, was learning with him sice late June and passed my driving test first time mid November thanks to him and his teaching techniques.
Nov 1, 2017
Was only with rob for a short period of time. Got me to a good standard and passed first time. He's a top chap and will be recommending him.
Oct 23, 2017
I found Rob to be a calm and patient instructor, whose experience and personality made learning to drive be a smooth and enjoyable process.
Every lesson was fun and productive, and before long, I found myself passing my test.

Thanks Rob!
Oct 19, 2017
Rob is a friendly, easy going, talkative guy. He is very patient towards learner drivers and when you mess up, in anyway, he doesn't accuse you, he simply works on how you'll do it better then next time. Rob helped me pass my test first time in about 13 hours of lessons and I would recommend him to everyone looking to start driving a car. Another good thing about my driving lessons is that I always looked forward to it as it was so easy to learn everything with Rob being there to teach me. Thanks again Rob, I'll see you on the road.
Oct 12, 2017
Rob had put in the effort to ensure I passed first time! He definately went the extra mile with helping me out, especially when I gave short notice on my test date!

He's straight to the point but has good charisma, which helps you become comfortable with driving. Would recommend Rob as he's a great driving instructor!