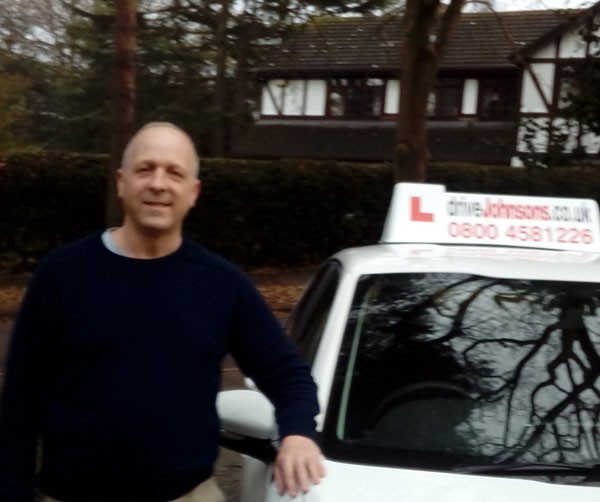 Experience & About Me:
Every pupil learns in a different way and, during my career as a driving coach, I have always endeavoured to find new methods to aid that learning experience.
During my spare time, I enjoy doing volunteer work at the local tree nursery and country park.
Favourite Quote:
"I can resist everything except temptation" – Oscar Wilde
Memorable moment
Whenever a pupil passes their driving test.
Likes
A walk in the countryside on a sunny winters day
Dislikes
Rhubarb, except the crumble – if it's with it
Position:

Fully qualified instructor
Teaching Vehicle:

Peugeot 208

Manual
Postcodes covered:

CM15, CM14, CM13, CM4, RM3, RM14, RM11, RM12
Average rating:
9 reviews
May 9, 2018
Andy is a superb driving instructor and a true professional. The best advantage I got with Andy being my driving instructor was that he carefully examined and pinpointed the key areas of improvement and tailored the lessons accordingly. He was always patient answering my questions though repeated many times. Will strongly recommend to everyone.Thanks a lot Andy
Apr 19, 2018
Andy is a patient and professional instructor. He ensured that I was completely prepared for all eventualities that may have occurred during the test by preparing challenging and enjoyable lessons. I would recommend Andy to anyone who is looking to learn how to drive from a top class instructor.
Mar 8, 2018
Andy is a great instructor who helped me pass my test first time with only 2 minors. He has a very professional manner and pushed me to improve my driving each week and progress. Andy is an all round nice guy and brilliant teacher. Would highly recommend to all!
Feb 21, 2018
Great guy and instructor who ensured he got to know me first before creating a lesson plan that was tailored to me. Also very flexible with booking times.
Feb 21, 2018
I passed first time with Andy and enjoyed every one of our lessons. A friendly and calm instructor with great driving techniques. Every drive i felt safe and reassured by him. Would highly reccomend to everyone!

Thank you Andy for everything
Feb 5, 2018
Andy is a superb driving instructor. Truely professional in every way, exactly what a learner needs. He made me the driver i am today, confident and careful. I was exceptionally nervous at first but Andy made me feel at ease throughout the whole process. He had handy tips and awareness skills to teach you exactly how to drive and deal with situations every driver faces from day to day driving. Even after I passed (1st time btw) he was still sending me tips and awareness skills. He answered all of my question and I had plenty. I cannot recommend Andy enough. He was simply perfect. Thanks so much Andy
Feb 3, 2018
Andy is a fantastic instructor!
He constantly pushed me and made me perfect every aspect of my driving in time for my test.
I passed with just 3 minors and they were really silly things because I crumbled a bit with the pressure.
Still, very happy indeed!
I would 101% recommend you take your lessons from Andy - you will pass in no time!!
Feb 2, 2018
Had very little time to get my lessons in before my test but Andy was very understanding about it and planned out the best method for me in that time .Felt very comfortable with him in the car and he had great teaching methods would highly recommend him. And best of all passed my test with very few minors so I was well pleased.
Jan 18, 2018
Andy helped me feel confident throughout my learning with great ways of teaching. Very patient and understanding of a learning driver. He was just amazing and i feel lucky to have had such a great experience learning to drive. I managed to pass first time too!