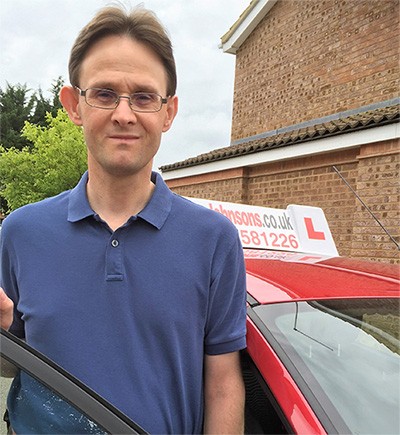 Experience & About Me:
Born in 1968 and educated in Kingsthorpe Northampton, I qualified as an ADI in April 2006 giving me over 10 years experience in teaching pupils to drive.
Originally from an office and then retail based background, moving to instructing has given me a new lease of life. Knowing everyone is different, but all having the same goal of passing their test gives me pride and pleasure when they have fulfilled their dream. Passing the test opens up so many more opportunities in life. Take them and succeed.
Favourite Quote:
"You are never too old to learn"
"Believing is achieving"
Memorable moment
Watching Northampton Town win at the old Wembley stadium on our first ever visit. (Not been so good on other visits since then)
Likes
Always striving to improve and complete a task fully and to the best of my ability
Supporting Northampton Town F.C. "Cobblers"
Maltesers
First time passes
Dislikes
Attitudes of other drivers towards learners.
Drivers who don't say 'thank you' when giving way – it doesn't cost anything to be polite.
Average rating:
12 reviews
Jun 20, 2018
For me the best instructor in Northampton knows exactly how to teach you and will make sure you are ready for your test and knows what's best for you
Jun 19, 2018
Fantastic instructor , would 100% recommend , Taught me everything I needed to know in great deal and helped me pass first time , can't thank him enough :)
Jun 9, 2018
Glenn is a good instructor that i would recommend. He was patient and flexible with any lesson time changes. Thankyou
May 2, 2018
My instructor, Glenn went over and above, even fixing my broken glasses before the test! He was clear, concise and flexible, often changing my pick up location to suit me and without complaint. Glenn was very patient and i passed second time with 0 minors.I would really recommend him.
Apr 20, 2018
Glenn has been extremely helpful for me and has allowed me to learn well and quickly and pass my test first time! I will/ already have recommended him to a friend! Thank you!
Mar 4, 2018
Glenn is an excellent instructor.
I took lessons once a week for a year till I passed on my second time with two minor faults; Glenn always took the time to answer all of my questions remarkfully helpfully. He was always calm and considered as you want in an instructor and therefore I would highly recommend him.
Feb 27, 2018
Previously learning to drive I knew I was an nightmare to teach to drive not only not getting along with people but being generally nervous! Having failed 2 tests and not having faith in myself! Having received lessons from Glenn he has had the time to understand the best way of my learning and how to efficiently teach me! I PASSED within 5 months of having Glenn for lessons and made me believe in what I could do! I would highly recommend Glenn to anyone for his time his patience and his belief in me to get me though! Anyone who needs to learn to drive go with Glenn!
Feb 23, 2018
Glenn jones was the best driving instructor by far, was always there to help no matter what the problem was, very patient and would highly recommend. Great service, friendly and knowledgeable. With all of Glenn's help I passed first time with only 3 minors which I'm happy about so thank you!
Nov 14, 2017
Great Instructor. Teaches you thoroughly! Managed to past my test first time with just 3 minors. Would highly recommend him to instruct you.
Aug 31, 2017
Brilliant instructor and overall really nice guy. Had over 30 hours driving experience with him and managed to pass my test first time with zero minors. Glenn's knowledge of roads in Northampton is incredible, taking me down any of the potential test routes I could have had and also giving me valuable driving experience around other busy roads to boost my confidence. Would thoroughly recommended Glenn to anyone wanting to learn to drive.