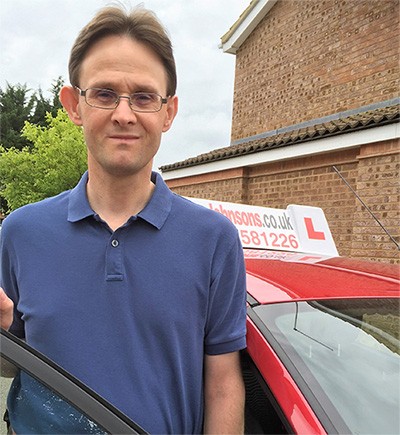 Experience & About Me:
Born in 1968 and educated in Kingsthorpe Northampton, I qualified as an ADI in April 2006 giving me over 10 years experience in teaching pupils to drive.
Originally from an office and then retail based background, moving to instructing has given me a new lease of life. Knowing everyone is different, but all having the same goal of passing their test gives me pride and pleasure when they have fulfilled their dream. Passing the test opens up so many more opportunities in life. Take them and succeed.
Favourite Quote:
"You are never too old to learn"
"Believing is achieving"
Memorable moment
Watching Northampton Town win at the old Wembley stadium on our first ever visit. (Not been so good on other visits since then)
Likes
Always striving to improve and complete a task fully and to the best of my ability
Supporting Northampton Town F.C. "Cobblers"
Maltesers
First time passes
Dislikes
Attitudes of other drivers towards learners.
Drivers who don't say 'thank you' when giving way – it doesn't cost anything to be polite.
Average rating:
4 reviews
Nov 14, 2017
Great Instructor. Teaches you thoroughly! Managed to past my test first time with just 3 minors. Would highly recommend him to instruct you.
Aug 31, 2017
Brilliant instructor and overall really nice guy. Had over 30 hours driving experience with him and managed to pass my test first time with zero minors. Glenn's knowledge of roads in Northampton is incredible, taking me down any of the potential test routes I could have had and also giving me valuable driving experience around other busy roads to boost my confidence. Would thoroughly recommended Glenn to anyone wanting to learn to drive.
Jul 30, 2017
Glenn is an excellent instructor who is always understanding, patient and helpful. I worked 40 hours each week but still managed to have a lesson without fail thanks to his flexibility. His knowledge of the Northampton roads is immense and helped me be prepared for any test route that may crop up. It was very easy to create a good relationship with Glenn, and he was completely transparent with telling me what I was doing great at and reminding me on any errors I made. I highly recommend him for any learners.
Apr 7, 2017
Really nice instructor, really helpful, always wants the best from each pupil. Helped me pass 1st time!! Glenn also went out of his way to pick me up from college just so I could have a lesson!