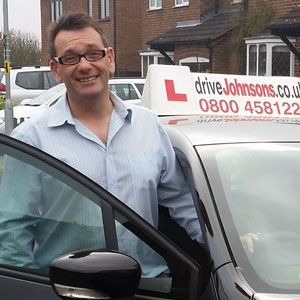 Experience & About Me:
I became a driving instructor in 2011 after an 18 year career as a prison officer. Since qualifying I've created over 300 new drivers and changed their lives for the better.
I joined driveJohnson's just over a year ago as they are without doubt the best driving school in the country.
Favourite Quote:
My favourite quote is "what a fantastic day for a drive" … because every day is.
Memorable moment
Twins passing in 2013 on the same day at the same test centre in the same car with the same number of minors. . 2 each ..same things
Likes
Honest, reliable, trustworthy people.
Dislikes
Dishonest unreliable untrustworthy people.
Position:

Fully qualified instructor
Teaching Vehicle:

PEUGEOT 208

Manual
Average rating:
15 reviews
Oct 13, 2017
thank you gor all your help in me passing my driving test first
Sep 28, 2017
Best driving instructor in Leicester. Soo lucky I had Ian, funny and great sense of humor. Unfortunately I won't be there anymore now that I've passed so I leave you with this Ian :). **Thats totally my bad** ;).
Sep 20, 2017
Great Instructor, helped me with my confidence. Would recommend to anyone. Will miss the stories!
Aug 18, 2017
Fantastic. Helped me pass, tips for after passing, confidence building, and generally a good teacher. Wicked sense of humour and totally professional.
Aug 18, 2017
Ian is an amazing driving instructor made me feel at ease safe and confident behind the wheel ,he knows his stuff !! So easy to get on with heis hilarious ,great person ,I passed first time !!! Thanks again :)
Aug 17, 2017
Was nervous when I first started but Ian soon Calmed them down, Ian made me feel safe and assured me that I was doing fine!! Very easy to get along with!! Would recommend Ian to anyone! Fantastic driving Instructor!!
Aug 9, 2017
Amazing instructor, I can't thank Ian enough for me passing, he is very patient also friendly, I really enjoyed all my lesson and would deffo highly recommend him, I am so pleased I have passed and this wouldn't of happened if it wasn't for Ian. Thank you so much :-)
Jun 5, 2017
Great instructor, very understanding and patient, nice person to drive with and very knowledgeable. Passed first time and it was all down to the well planned lessons before the exam. Cannot thank Ian enough!
May 30, 2017
I bought lessons for my son for his birthday with Ian. Great instructor.
Dec 2, 2016
absolutely amazing instructor!! after failing the first time with a different instructor, I turned to Ian for help and I wouldn't look back! after only 4 hours of driving with Ian before my next test I learned considerable amounts and succeeded by passing the 2nd time round. Would 100% recommend Ian as a driving instructor! makes you feel confident and comfortable! :)