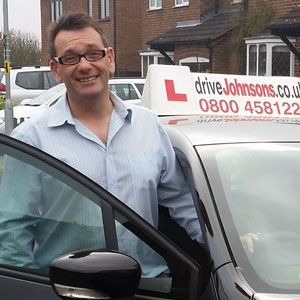 Experience & About Me:
I became a driving instructor in 2011 after an 18 year career as a prison officer. Since qualifying I've created over 300 new drivers and changed their lives for the better.
I joined driveJohnson's just over a year ago as they are without doubt the best driving school in the country.
Favourite Quote:
My favourite quote is "what a fantastic day for a drive" … because every day is.
Memorable moment
Coaching the well known Hollywood actor Stephen Graham to a first time driving test pass
Likes
Honest, reliable, trustworthy people.
Dislikes
Dishonest unreliable untrustworthy people.
Position:

Fully qualified instructor
Teaching Vehicle:

PEUGEOT 208

Manual
Areas Covered:

North West Leicestershire

Central Leicester
Average rating:
23 reviews
Aug 30, 2018
Ian is a wonderful instructor and has supported me from day one of my driving lessons.

He made every lesson enjoyable, and would work around both the things both myself and him wanted to improve. He helped increase my awareness and confidence on the road allowing me to pass my exam.

I would recommend Ian to anyone wanting to learn to drive because his lessons are second to none and he's a brilliant person to learn from!!
Jul 3, 2018
I started learning with Ian a few months ago and honestly he is one of the nicest, funniest guys I've met. He calmed my nerves down with my Driving and he helps by breaking the lessons up with his crappy jokes ;). I sure will miss Ian, Bessie and the Queen being in the back of the car with a cup of tea!
Thanks so much for helping me pass Ian! I couldn't have done it without you! :)
Jul 3, 2018
If there was 100 stars I would give it to this man he got me though my driving test that I didn't think was possible top glass bloke I can not reccomend him enough to everyone no matter if you are new or old to driving this is the best driving Instuctor to learn with top bloke Ian
May 31, 2018
Ian is by far the best instructor i couldve had. He had a lot of work on his hands with teaching me as im not the best learner and im pretty shy. He made me feel very comfortable and persevered with me and got me through my test with only 3 minors ... i will by far be recommending him to anyone thats asking for a driving instructor
Mar 22, 2018
If there was 7 stars I would give them to Ian!!!
3 months ago, I had never sat infront of a steering wheel let alone actually drove a car. Today I passed my test first time, with only 4 minors! Ian, right from the very beginning of my learning journey built up my confidence and made sure every aspect of my driving was good. He is always offering very helpful constructive criticism however he never forgets to praise the good skills that you may have. This guy pays great attention to detail and learning to drive with him was an absolute pleasure. I 100% recommend learning with Ian, he is a very good teacher and instructor.
Mar 2, 2018
I have just passed my test and I believe that Ian was the reason for it not just the driving technique but also the mentality and how to be confident at the wheel, I will always recommend him to any of my friends and I am glad to have called him my driving instructor.
Feb 19, 2018
Ian was recommended to me by a colleague after being with another instructor for over a year and failing my test multiple times. I have today just passed my test with a massive smile on my face and would like to thank Ian for his persistence. If you struggle with something he will always find a way to make it comfortable for you. Would highly recommend. Thanks for everything!!
Feb 15, 2018
Thank you for helping me pass my test! Thank you for all the laughs and making it such a great experience! Would definitely recommend Ian!
Oct 13, 2017
thank you gor all your help in me passing my driving test first
Sep 28, 2017
Best driving instructor in Leicester. Soo lucky I had Ian, funny and great sense of humor. Unfortunately I won't be there anymore now that I've passed so I leave you with this Ian :). **Thats totally my bad** ;).