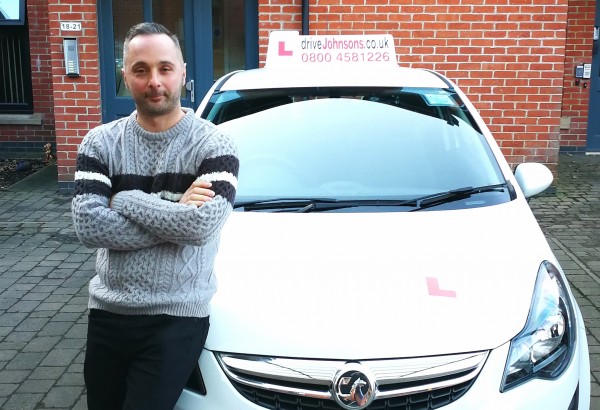 Experience & About Me:
I am a very experienced driving instructor with over 9 years teaching experience. During this period I have been working to adapt and enhance my teaching methods to help my learners pass their driving test with ease.
I believe if you really want to achieve something, then as long as you commit and try your very best, then you can be successful.
Before I joined Drive Johnson driving school, I used to run my own school in the Leeds area. However sometimes in life it is better to be part of something bigger and just like you I was impressed with the professional approach and excellent customer support offered by all the staff at Drive Johnson. So I made the call to join the team and have never looked back.
Favourite Quote:
"If you're going through hell, keep going."
This is a great quote by Winston Churchill.
Memorable moment
One of my most memorable moments was seeing one of my very first pupils pass their driving test. Since then I have had lots and lots of pupils pass their driving test and enjoy the freedom and benefits that learning to drive offers.
Likes
People with a positive attitude and willingness to learn while trying hard to achieve success.
Dislikes
Bad Manners and negative attitudes.
Position:

Fully qualified instructor
Teaching Vehicle:

Vauxhall Corsa

Manual
Postcodes covered:

LS3, LS4, LS5, LS6, LS16, LS18, LS12, LS13, LS17, LS28
Average rating:
5 reviews
Jul 3, 2018
Lee is a friendly and professional driving instructor who helped me pass first time. His reassuring and relaxed demeanour allowed me to enjoy my driving lessons whilst developing my skills behind the wheel. His knowledge and experience was apparent and he was always able to answer any questions I had about driving. I would highly recommend Lee to anyone looking to pass their test first time.
Mar 16, 2018
Literally the perfect driving instructor. Turns up exactly on time, never cancelled a lesson and one of the kindest and friendly people I've ever met. Never once got angry or annoyed. Lee's expertise and experience was obvious during the test as the route covered was almost identical to the ones covered during lessons. And if you want to practice anything, he knows exactly where to go. I couldn't recommend Lee enough, there is literally no downside to learning to drive with Lee and he single handedly helped me pass first time.
Feb 26, 2018
I cannot thank Lee enough for his help and support whilst I learnt to drive. He helped me to pass first time and ensured that I was a safe and confident driver before I took my test. He is relaxed and has a good sense of humour so I also enjoyed my time learning with him. Lee is punctual, polite and always has a clean car. Thanks again Lee - everything is much appreciated!
Feb 2, 2018
Lee is a positive and reassuring instructor who will help you to gain the confidence and skills needed behind the wheel.
He's a real asset to the Drive Johnsons team.
P.s he helped me pass first time!
Feb 2, 2018
Lee was absolutely brilliant. My daughter really wanted to learn to drive but was incredibly nervous about starting lessons. Lee was so patient with her and very reassuring and, thanks to his support, she quickly gained much more self confidence to the point she really looked forward to her lessons. Lee was always punctual, very easy to contact and flexible. My daughter really liked him and I found him extremely pleasant to deal with too. Both myself and my daughter would highly recommend him, particularly to anyone who is nervous about taking their first steps on the road to driving.